Programmes
Responsibility for ensuring that necessary funding is in place to meet the costs of a TIWB Programme resides with the Host Administration. These costs should be considered in respect to the anticipated impact of the audit assistance programme. By drawing on its network of Donor Partners, the TIWB Secretariat is able to assist Host Administrations connect with potential Donor Partners and Partner Administrations who may have the capacity to fund all or part of the costs of the TIWB Programme.
In most cases, Host Administrations contribute to funding the costs of the TIWB Programme and should be viewed as a means of engaging ongoing and high-level commitment to the TIWB Programme's objectives by the Host Administration.
Duration of assistance
There is no minimum or maximum period for TIWB Programmes. Each Programme is likely to be at least one week long and may, for example, provide 8 to 12 weeks of audit assistance over a period of 18 to 24 months. Before making an Assistance Request, Host Administrations should consider precisely how and when an Expert would engage with their audit cycle and with the audit plans for particular taxpayers.
Timing of assistance
A practical matter to consider is the timing of the expert assistance in order to accomodate both parties' schedules. The TIWB Expert should be present on-site in the Host Administration in order to have maximum effect. This will mean taking into account audit planning, tax return cycles, the time normally taken to complete particular types of audits, including peak work periods in the audit process.
Mode of assistance
TIWB Programmes will vary according to need and availability, but will mostly be structured as Periodic Programmes. The TIWB Expert provides intermittent on-site assistance, such as 6 weeks of assistance provided over a 18-month period in the course of 6 in-country visits. In some cases, this periodic assistance will be coupled with remote desk-based assistance when the Expert is not present in the host country.
Status
TIWB programmes are currently underway in various countries and jurisdictions to support audit activities. Experience proves that TIWB-style audit assistance can result in improved quality and consistency of tax audits; sustained improvements in tax audit skills; and higher levels of voluntary compliance by taxpayers. South-South deployments are also a growing element of TIWB programmes.
| | | |
| --- | --- | --- |
| Completed programmes - 59 | Current programmes - 54 | Upcoming programmes - 14 |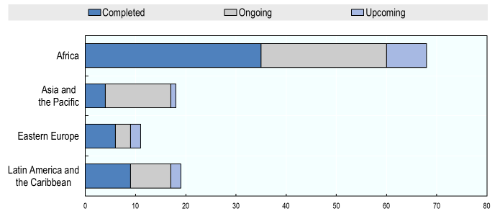 Note: Programmes with an asterisk (*) indicate pilot programmes in new areas.